Link to a file (fileref)¶
Attribute options¶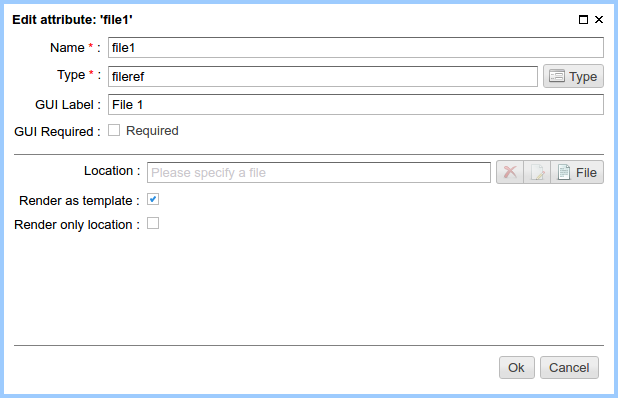 Option
Description
Location
Location of the file in the ηCMS media repository.
Render as a template
If this option is enabled, the file content will be interpreted as

HTTL

template and inserted as attribute value.
Render only location
If the switch is on, a file path will be a value of this attribute. Otherwise it will be a file content or file content processed as a template depending on Render as a template option.
Edit mode¶

Using in the markup¶
Type of the attribute value: java.lang.String
For example, activate the checkbox Render as a template, and create the file template-inc.httl containing:
<

p

>


  #set(String name = "Template")
  

<

b

>

Hello from ${name}

</

b

>




</

p

>



Choose that file to set filref attribute and modify the page core:
FileRef: $!{asm('file1')}

As a result, we get the following page: